WICKED MINDS 'From The Purple Skies'
Black Widow BWRCD076-2 (2004)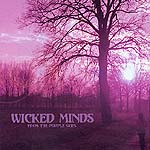 This CD from an Italian prog rock band is appropriately entitled - it takes its cue from Deep Purple in 'Fireball' period c.1971. There's lots of hard riffing Hammond and guitar in true Lord/Blackmore tradition. You do ask, though, what the hell is it all for? Surely die-hards will merely reach for the originals, which means that Wicked Minds are nothing more than a very good tribute band with a VCS3 permanently shoved up their collective jacksies.
Moving on from the obvious Purple tinges, dues are paid to bands such as King Crimson and Uriah Heep, with a cover of 'Gypsy'. Those of you with long memories will recall that Italy has produced its own breed of well-regarded prog-rockers from the early seventies onwards, including PFM, Le Orme and Banco.
Whilst it is highly unlikely that Wicked Minds will join their hallowed ranks, they do point to that golden age. However after this onslaught of heavy riffing and abject plagiarism, it is more likely knowing listeners will reach for a strong espresso and then the medicine cabinet, rather than long-forgotten vinyl tucked away in the A-Z of European Rock.
By the time of the final track, Pink Floyd is the only band that seems to have escaped from these Latin Looters. But, finally, Floyd don't escape either. The track title probably best sums up this CD - 'Return To Uranus' - time to surgically extract that VCS3 and set the controls for the dark side of the, er, moon.
***
Review by David Randall

From The Purple Skies
© 2004 Wicked Minds/Black Widow Records. All rights reserved.