You haven't lived if you haven't seen the Who live...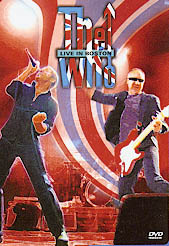 One of the most successful, daring, loudest and biggest rock bands, ever. And they've had more than their fair share of bad luck too. Of the more recent, the death of bassist John 'The Ox' Entwistle.
This concert, recorded back in September 2002, was part of the tour dedicated in his memory shortly after his sudden death, and as a professional piece of memorabilia from the era, it makes for essential viewing/listening.
Opening with 'I Can't Explain', the band do seem slightly muted and never reach the energy levels of their heyday, but that's understandable given the circumstances as well as their age (of surviving members vocalist Daltry and guitarist Townsend at least).
Things do pick up though, and there is some energetic (and often amusing) banter between band and audience. The band are on form, loud, professional, and Townsend never lets up on the trademark swinging of the right arm.
The large amphitheatre is sold out, those at the back able to watch the dancing matchsticks on large screens in festival fashion.
With keyboards, and Roger Daltry picking up a guitar too, you get a full and solid sound that's tighter than a camel's arse in a sandstorm, but 'Live At Leeds' this ain't.
With 'Substitute', 'Baba O'Riley', 'The Kids Are Alright', 'My Generation' and 'Won't Get Fooled Again' you're guaranteed a pleasing set list. The audience are enthusiastic enough, and go wild at even the mention of Quadrophenia.
A long, full and complete show is augmented by extra tracks and a gallery of 23 of The Ox's paintings, accompanied by an interview with Pete Townsend.
A million miles from the bands heyday, but even on a bad day, if you haven't seen or heard The Who, you haven't lived.
*****
Review by Joe Geesin