WHITESNAKE Live In The Shadow Of The Blues (2CD) SPV 80001074 (2006)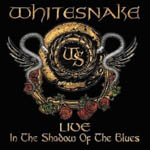 Hey, I know we've just had a tour and DVD and compilation and remastered albums, so another live set? Well, yes, and fully deserved.
While the DVD released earlier this year was recorded nearly two years previously (October 2004), this set was recorded on the sell out (and well received) tour earlier this year, showing a more up to date setlist (expanded from the DVD) and also the stability of the current line-up (guitarists Reb Beach and Doug Aldrich, bassist Uriah Duffy, drummer Tommy Aldridge and pianist Timothy Drury). And as a bonus, there's 4 new studio tracks showing how busy the band have been; there's a new full studio album planned for next year!
The live set kicks off with the uptempo 'Bad Boys' and we then get 'Slide It In' and 'Slow An' Easy' (two of Coverdale's less subtle lyrics), and while the early material is given the full American shred treatment that lacks a certain down to earth honest feel of the early line ups, the sound is polished, and they're still damn fine rock songs. In fact 'Slow An' Easy' does rock you to the bone!
'Love Ain't No Stranger' shows just how good, strong, popular and underrated the Slide It In album is, US remix or not. 'Judgement Day' is one of the later tracks included, and 'Is This Love' goes down well too.
Guitarists Reb Beach and Doug Aldrich play their hearts out, if occasionally adding a few too many notes.
'Crying In The Rain' has the crowd singing their hearts out, and 'Ain't No Love In The Heart Of The City' an ever popular anthem. 'Fool For The City', 'Here I Go Again' and 'Still Of The Night' close the first disc, the former a real classic and highlight.
Disc 2 opens with a medley of 'Burn' and 'Stormbringer', two old Deep Purple classics. Strange that it crashes and burns like the opening number of a concert, which it was at the gig I was at. That said, Coverdale's voice is on form and well worth checking out.
'Give Me All Your Love Tonight' is great, enjoyable, rocking. 'Walking In The Shadow Of The Blues' remains one of the finest around, by anyone.
'The Deeper The Love' is smooth, 'Ready An' Willing' classic (I can see Ian Paice's flat cap now), and I've always loved 'Don't Break My Heart Again'. There's still hunger, more than a casual market, for this early material. Good though Aldridge is, he's not in Paice's class for certain touches.
The set finishes the brilliant 'Take Me With You', a perfect number.
The four new studio cuts finish disc 2, kicking off with 'Ready To Rock', which while is high class, high tempo and well polished, while lacking the commercial angle of 1987, making for a strong rocker and a very decent tune.
'If You Want Me Baby' is a heavy number and again sees Coverdale exploring the upper range of his vocals.
'All I Want Is You' is a ballad, and while a good number which Coverdale showing his huskier edge, it is a rather reminiscent of his late 80s work.
Final number 'Dog' sees both guitarists working together well. Less of the Whitesnake sound but it's an excellent number.
David is back and well worth checking out.
****½
Review by Joe Geesin
DVD review
---
| | |
| --- | --- |
| | Print this page in printer-friendly format |
| | Tell a friend about this page |