WARHORSE Red Sea Angel Air SJPCD035 (2006)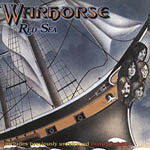 Bassist Nick Simper saddled up this rock act in 1970 after succumbing to the revolving door that was Deep Purple's 'human resources' dept.
Landing a deal with the hip Vertigo label, the band got straight in and recorded an eponymous debut (also available on Angel Air) followed by 'Red Sea' the following year.
Akin to Simper's old band and fellow label mates Uriah Heep, with a dash of Black Widow thrown in for good measure, the set features self-penned compositions - offset somewhat bizarrely by a cover of Shirley Bassey's 'I (Who Have Nothing)' - in a heady organ-fuelled brew with stabbing guitar work and strong, melodramatic vocals from Ashley Holt, stoked nicely by drummer Mac Poole (who gets a solo in, the lad!).
Hurried production is the only carp, the inference being that the label had lost interest in what it perhaps saw as a mid-ranker. This was more than suggestive when Vertigo dropped the band in 1973. Undeterred, Warhorse returned to the studio, cut demos of new material, and touted them round the labels. But when a few of the boys (quislings) abandoned him for Rick Wakeman's band the following year, Simper was tying the act up outside the knacker's yard.
A period piece, redolent of rock of the day, with those last demos and a live track amongst six bonuses, this is an enjoyable and nostalgic canter back to hard rock heyday.
***½
Review by Peter Muir
Back In Time
© 2006 Angel Air Records. All rights reserved.
---
| | |
| --- | --- |
| | Print this page in printer-friendly format |
| | Tell a friend about this page |