Musical masterpiece gets new life on stage...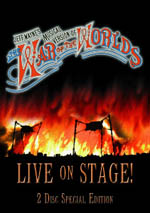 When Jeff Wayne scored the film back in 1978, he scored a masterpiece (in more ways than one), with elements recognisable to everyone.
Wayne more recently took the production on the road, to a lot of success as this DVD shows.
The story is well known, or at least should be. Martians invade earth, arriving by meteorites, and stalking the Earth in their walking tripods. Their heat ray kills all, survivors scratching a survival. The Martians, of course, being so perfect have eliminated all hazardous bacterium and viruses from their home world, and over the millennium their bio defences (immune system) has fallen a long way behind their technological advances. So when they emerge to drink and eat, bingo! Our invisible friends do their worst.
The show itself is a masterpiece. Not something you could watch daily but a wonderful event that you canít help but catch on DVD.
On stage you have a full electric rock band and an orchestra too, conducted by Jeff Wayne inperson. And behind them on screen you have projected plenty of special effects, aliens, and narration from the original and late Richard Burton.
Certain parts are then acted out (and sung) by actors who come on in front of the orchestra/band, in a very operatic fashion.
Different, but wonderfully done, a real event. In places the music is superlative too. Exceptional throughout.
Any fan of Wayne or War Of The Worlds will love this, really.
Plenty of extras too, including the bringing back of Burton. Perfect for Christmas.
****½
Review by Joe Geesin