WALTHAM Rykodisc (2005)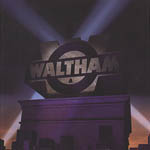 Waltham released this album under their own label and now it gets a big label release with added tunes.
If you like quality, power pop rock this is a MUST! Simple as that. They combine highly catchy melodies with power riffs and glorious harmonies – just listen to opener 'Cheryl (Come And Take A Ride)' for proof. If you like the Cars, Cheap Trick, Butch Walker, Bowling For Soup et al. Other stand outs include 'Joanne' (surely destined to be a single), 'Be With Me' (featuring a catchy synth effect) and 'Hopeless', something this band certainly aren't.
Another secret of this album's success is that Waltham successfully combine the classic 80's sound of power/pop rock with a modern, header edged feel. Many bands try to meld classic and new style and fail, but this band carry it off in style.
Great to see this type of music alive and well, so what are you waiting for? Go and buy a copy now…
****½
Review by Jason Ritchie
Joanne
© 2005 Rykodisc. All rights reserved.