Hardcore music fest is tough going...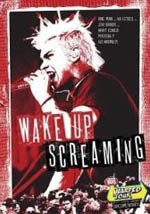 A touring festival, 100 bands over nine stages, with booths, stands and the like, promoting animal rights, veganism etc.
The basic feature, is a film, with commentary with Jason (one of the crew), and plenty of shots front and back stage, pre and post gig, in and out of tour bus. Plenty of new ideas and new bands, it's all pretty haphazard, piecemeal, and some pretty hardcore music and hardcore (and quite reasonable) ideals.
It's a mix of music and animal rights marketing, so you kind of need to be interested the music to retain any interest. Ploughing though it all is very hard work, no matter how noble the ideas and cause.
Bands featured include NOFX, Bleed Of The Dream, Strike Anywhere, The AKAs and a host of others.
Good in places but just too disjointed, even with all the bonuses and extras.
**
Review by Joe Geesin