VOX TEMPUS In The Eye Of Time (Program) (2004)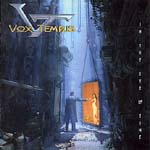 The band's full debut album (the band released an EP earlier this year), which features members of Takara, Equinox and Millennium plus guest drummer Gregg Bissonette (Dave Lee Roth/ELO).
Vox Tempus are certainly one of the better classic prog bands out there, taking the classic 70's style of long keyboard passages and time changes, coupled with strong vocals and an abundance of guitar solos.
Dream Theater would be a good modern day comparison although Vox Tempus plough a much heavier path at times like `Escape'. The instrumental `Voice Of Time' allows the band free reign, especially guitarist Ray Mantor (switching from Malmsteen neo-classical to some serious riffing) and keyboard player Eric Rango.
`Steal The Moment' rounds the album of in style and shows off the melodic vocals of Dan Reed. A fine piece of AOR balladry if ever there was one. For all you prog rockers out there another band to seriously give some listening time to, you won't be disappointed I am sure. Looking forward to seeing how the band develops on their second album.

Band website
***½
Review by Jason Ritchie
Love,Lies & Treason
© 2004 Vox Tempus. All rights reserved.