THE VILLEBILLIES Universal 755202 (2006)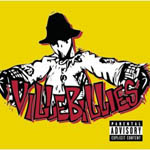 It's perhaps surprising to realise that over twenty years have passed since the likes of Grandmaster Flash and Run DMC did the unthinkable and crossed Rap over to Rock music. Somewhere in between the cracks there was even room for subtler social commentary efforts from the likes of Gwen Guthrie's with the very poignant 'Ain't Nothing Going On But The Rent'; And while many Rap Rock acts have alienated a broader audience by a mix of extreme lyrics and musical intransigence, not to mention the problem of winning over notoriously conservative rock fans, the new kids on the block Villebillies are well positioned to fill the crossover niche.
Quite simply this is an excellent album full of blistering songs, booming choruses and rapped out commentaries that are both funny and meaningful by turns.
Hailing from the distinctly unhip, Louisville, Kentucky the 10 piece, four vocals strong, Villebillies think nothing of pushing their often ironic and humorous rap message into far a field musical genres from Rock and Funk to country and pop.
In many respects Villebillies represent the cutting edge of a contemporary musical scene that finds a home for everything from Rap Rock to Chicano Rock. Perhaps more surprising is the fact that Villebillies are a white rap Rock outfit, but with a multi ethnic following whose lyrical brilliance and unlikely musical crossover might just be enough to forge a new musical niche.
The self titled debut album is crammed full of great songs The album opens with an elderly southern gentleman quietly asking for out attention, and straight away the band are rapping away impossibly fast on the first of a couple of a songs about alcohol, suitably entitled 'Whiskey'. The following 'Burning Down The House' which is equally impressive opens with a four part vocal attack and has already been a hit for the band. Unlike many of their contemporaries both lyrics and the music carriy equal weight in a being a rich amalgam that is way beyond the tired fare of stultifying bass lines and repetitive beats.
On 'Mr Brown Bag' for example there's a Johnny Guitar Watson style opening vocal a real funky feel, underpinning some biting lyrics about alcoholism, 'Well me and Mr Brown bag we got a pass and everytime I try and quit he bites me in the ass, I know it sounds bad when people say that I'm an addict, Just when I think I don't, I've got to have it;'
There's even a classic rock guitar intro and a real Southern feel to the self explanatory 'Rollin Stone', and an unlikely banjo intro on 'Ol Faithful' - the band's quirky take on their home state of Kentucky. And as if to emphasise stylistic diversity they throw in a heavy rock arrangement on the murder song 'Mary' that brilliantly combines heavy rock, Rap and even a blues harp.
Whether the band can cross over this compelling melange will depend heavily on radio play. Everything about this album is superb, from the ground breaking fusion of genres to the magnificent singing and playing that climaxes in the big rock finale of 'Greatest Moment', providing possibly the first meeting of rap rock and a string section! In an age when too much dumb music is championed by profit led corporations this album is a breath of fresh air and deserves to go all the way.
****
Review by Pete Feenstra
---
| | |
| --- | --- |
| | Print this page in printer-friendly format |
| | Tell a friend about this page |