VENOM Metal Black Sanctuary (2006)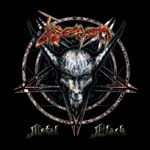 Venom were first spawned by Satan in 1979 and their first LP, 'Welcome To Hell' was released in 1981 by Neat Records. They went on to release a further nine albums before splitting in 1992, with a further three albums recorded by the original line-up from 1996.
Venom have always been a band of extremes, and their music is a mix of Motorhead, Black Sabbath and punk only more so. Like Motorhead, much of their lyricism relates tales of sex, drugs and rock 'n' roll but there is also heavy emphasis on satanic themes which is one of the reasons for which Black Sabbath are famous. Again, Venom are a band of extremes and they were much more subversive in their use of satanic themes than Sabbath.
The first to use the term 'Black Metal' in the album of the same name, Venom are far from being just a band, they are also a stage show, an ethos previously used by acts such as Alice Cooper. Their pyrotechnic stage show, coupled with their satanic lyricism, inspired an entire genre, being black metal. However, Venom are very different from black metal as it is today, since they are strongly rooted in the NWOBHM tradition. They have also inspired other genres, such as thrash - listening to Venom I can hear that they had an influence on Slayer among others.
Metal Black sees the return of Cronos as vocalist and bassist, joined by guitarist Mykvs and drummer Antton. From the first track, 'Antechrist', it is clear that Venom have returned to form. Technological changes have meant that their sound is louder and the drums are more pounding but they have kept much of their original, dirty sound.
In typical Venom style, many of the tracks on 'Metal Black' are fast and furious with blistering guitars, and the entirety of the album comes across as quite intense. There are slightly slower songs, such as 'House Of Pain', the third track.
I can hear various other bands on Metal Black, for example 'Hours Of Darkness' reminds me of the Black Label Society. This shows the far-reaching influence that Venom have had, since I had never made the connection previously. Of course Venom have their own influences, and the fifth track even seems to have a riff similar to Thin Tizzy's 'Jailbreak', which surprised me somewhat.
One track which I did not enjoy was 'Blessed Dead', because of the time signature. Although Venom are capable of changing tempo to great effect (as evidenced on the sixth track on the album, 'Darkest Realm'), I didn't feel that 'Blessed Dead' worked as well as it might. I thought it may have been more effective if the slower tempo sections weren't quite slow enough and it seemed a little weak.
A greater difference between the slower and faster tempos, especially with the nice little builds, could have been used in a more potent contrast.
If you like intense, fast and furious metal, you will love this album. If you like old-school Venom, you will love this album. For me it wasn't perfect but it was damn close.
****
Review by Amanda Hyne