Velvets are no soft touch...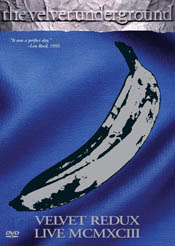 If The Velvet Underground remain very much of their time, never quite recapturing the impact of their definitive debut, their appearances on film have been scant.
This DVD, taken from a European 'reunion' tour filmed in Paris in June 1993, captures the original line-up. OK, the enigmatic Nico was the only absentee (she only appeared on that first album and died in 1988) but given Sterling Morrison's own death in 1995 this is a unique record.
Their debut album released in 1967 is often elevated with St.Pepper's and Love's Forever Changes as one of the definitive albums of that year, and here is represented by four tracks including the insistent opener 'Venus In Furs'.
The remaining tracks are lifted from 1969's 'The Velvet Underground' and 'Loaded' along with some obscurities like 'Hey Mr Rain' (a slightly monotonous instrumental) and 'I'm Sticking With You' (Drummer Mo Tucker's vocal showpiece).
Two key band members, Nico and John Cale, had left by the time of the third album and Lou Reed was left to carry an increasing songwriting burden. And, after this 1993 reunion, Cale and Reed fell out again.
Back in 1967 the Velvets cut through the Summer of Love with a sound that was at once more darker and frenetic, and they have influenced successive generations of alternative rock bands.
For this reason, a younger generation should discover this, whilst for fans it's a rare filmic account if, sadly, lacking some obvious band classics such as 'Sister Ray' and any bonus material. Collectors should note a 2-CD set of this gig was released in 1993 and is still available.
****
Review by David Randall