VANGELIS 'Odyssey - The Definitive Collection' (Universal 602498131497) (2003)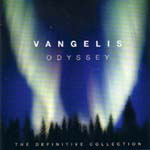 An 18 track compilation of some of the Greek keyboard wizard's finest moments. There is the expected like the haunting 'Pulstar' (one of only two 70's era tracks on this album) and his award winning theme to 'Chariots of Fire', plus music from films such as 'Blade Runner', 'Mutiny on the Bounty' and 'Missing'. I am a big fan and part of the appeal of Vangelis for me is the wave of keyboards each track is built upon. New track 'Celtic Dawn' contains Irish/Celtic music influences the title suggests and is very redolent of 'Riverdance'. The only other unreleased track on here is the main theme from 'Cavafy', a very quiet and slow piece, nice but not up to the standards of the other tracks contained here. Two bonus tracks are the Jon & Vangelis 'I'll Find My Way Home' (surely one of Jon Anderson's finest vocal moments?) and 'State of Independence'.
Many fans will already have much of the material on here but this compilation is aimed mainly at the lucrative Christmas market. Only one small gripe is no tracks from one of his finest works 'Heaven and Hell' but you can't have everything. If you've yet to discover Vangelis, I can highly recommend this album and 'Themes' from 1989.
*****
Review by Jason Ritchie
***** Out of this world | **** Pretty damn fine |
*** OK, approach with caution unless you are a fan |
** Instant bargain bin fodder | * Ugly. Just ugly