VANDEN PLAS Christ O Inside Out (2006)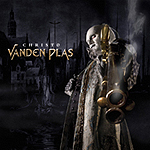 This is Vanden Plas's 5th full studio album, though the German prog metallers seem to have been around a lot longer. They have never made a bad album and each subsequent release sees the band progressing to out do the previous album.
'Christ 0' is based on the epic novel, 'The Count of Monte Cristo', though dosen't suffer from the usual pitfalls that some conecpt albums seem to be cursed with.
What seperates Vanden Plas from other progressive metal bands, is they know how to write a catchy song, and of course are technically profficient, but never over do the widdly diddly bits.
Not much has changed with 'Christ 0', the Vanden Plas wheel is being perfected, not radically changed. If you liked any of their previous albums, this album will sound like an old friend. That is not to say it's a mere rehash of past glories, this time Vanden Plas fine tune their classic sound, almost to perfection.
Classy, intelligent, catchy, professional and and album full of great songs that demand repeated listens.
*****
Review by Graham Boyle