VAN TRAMP Wheels Of Fortune Barndello Records (2006)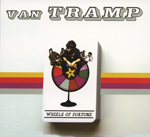 Van Tramp, a 5-piece - (Tim Howar, vocals/guitar ,Patrick Mascall, guitar/sitar, Mike Potter, bass, Guy Snelgar, drums, and Andy Tinning, keyboards) - from London and Spirit River, Canada are being feted by the music press as quite possibly the next big thing.
Canadian vocalist Tim Howar has a tested pedigree - he played lead in the Rod Stewart musical Tonight's The Night in London during 2004 and the sold out Broadway musical Rent. The album is produced by Grammy winner Mark Taylor (Cher, Britney Spears, Tina Turner, Daniel Beddingfield) and while Wheel Of Fortune may be his first rock record, he's given the band a wonderful loose 1970's feel.
And it's classic rock 'n' roll - a heady mix of the Faces with shades of U2. A great little album - radio friendly in an Embrace sort of way. But there's two problems. The first is the Rod Stewart connection. Now, my trouble and strife hasn't got what you might describe as an encyclopaedic knowledge of rock but her first reaction - unprompted - was 'sounds like Rod Stewart'. And once you've got that image, it's a difficult one to shake.
The other problem is that while every song is good, few are great and a couple sound like covers, in particular New England, which sounds like a remake of U2's When The Streets Have No Name.
No doubt Van Tramp are a good time rock 'n' roll band, no doubt Tim Howar has a great set of pipes, and no doubt Wheels Of Fortune is a great set. But do they really have to sound so like Rod and The Faces?
***½
Review by Pete Whalley
The Garden
© 2006 Barndello Records. All rights reserved.