VACABOU Vacabou All Saints HNCD 1486 (2006)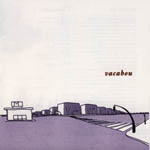 You can't help thinking that Vacabou, a Franco-Spanish electronica duo, have missed the chill-out boat.
Whilst we were all supine in the late-nineties, de-stressing to Air and Lemon Jelly, (and even the bands of that description), it appears Vacabou may still have been loading the sequencer.
That is not to say, this eponymous debut is bad, given the right mood and frame of mind it's actually quite pleasant, only occasionally do the quirky electronic spikes and ambient noises irritate.
Essentially, if you liked Air's 'Moon Safari' and the trip-hop ambience of countless other albums of that ilk, Vacabou should be on your shopping list. It's the aural equivalent of the coffee table tome and every home should have one.
***½
Review by David Randall
Meditation Park
© 2006 All Saints Records. All rights reserved.