URIAH HEEP Reissues
Sanctuary (2005)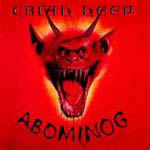 In the 80s, Uriah Heep were still going, guitarist Mick Box still flying the flag. By this time, however, Uriah Heep were a completely different beast from their 70s heyday, back from the dead almost, and a completely new line-up too.
Issued in 1982, Abominog Sanctuary SMRCD185 (67:09) featured vocalist Pete Goalby, keyboard player John Sinclair, returning mainstay drummer Lee Kerslake and former Rainbow/Ozzy bassist Bob Daisley replacing the since returned Trevor Bolder.
The album had a strong modern 80s sound, if a little poppy and less operatic, but tracks like On The Rebound and the cover of Thatís The Way That It Is are still great. Screams and crunching guitars, with a nod of AOR. ****
With some consistency, 1983ís Head First Sanctuary SMRCD186 (63:43) kept the same line-up, the sound really gelling too. Opener The Other Side Of Midnight is a strong number, with strong guitars, and Weekend Warriors is as heavy and fast a song as Heep would ever record.
Sadly this album would close a chapter, ending their relationship with Bronze records. ****
Modern and less reliant on the organ grinding Hensley influence, both these albums are a breath of fresh air, and come with a plethora of extra tracks and packed booklets.
Review by Joe Geesin