UNCHAIN 'Unchain' AOR Heaven (2005)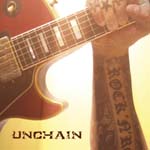 This lot are Swiss and they are not Krokus, though they have supported them from time to time. Not only that but they have produced a pretty decent blue-rock album, that though it may be 9 tracks, gets better with every play.
The band have opted for no filler on this release, every song is pretty durn good. Catchy choruses, just check out 'Sabrina' and killers riffs combine for some damn good hard rock. While it may not be anything new or unique it is not obviously derivative and they do what they do oh so well.
Considering this is their debut it will be interesting to see what they can manage to produce with their second release. If you like gritty bluesy rock that could have just as well come out of LA as Switzerland then this lot will do the trick. Let's hope they make it across the channel to the UK sometime soon. A very pleasant discovery this early in the year and one I am sure I will keep coming back to.
**½
Review by Marty Dodge
Steal My Baby
© 2005 AOR Heaven. All rights reserved.