Annual Heep outing captured on DVD...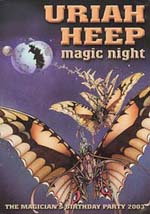 I love getting DVDs of gigs I was present at; especially when they were really great shows. The annual 'Magicianís Birthday' shows by Uriah Heep are one of the first entries on the gig calendar each year, as there are usually some special guests appearing with the band each time.
2003 was no exception and the band took to the stage with old favourite 'Easy Liviní', guaranteed to get the audience going from the off. A few less permanent residents of the live set followed - one of the things that make Heep shows so enjoyable is the variation of set list they bring to the table each time. This time there were half a dozen Iíd not heard them play recently, including the excellent 'Bad Bad Man' with accompanying big screen video taken from an old black and white silent horror flick. Some of this video footage is included on the DVD presentation of this track.
Lee Kerslake grabbed his tambourine and headed down to front of stage to join Mick and Bernie for a medley of acoustic numbers including 'Firefly' and 'Free Me'. Vocal harmonies are a big part of Heepís music, with all 5 members contributing at some points, but when Lee lets rip without the encumbrance of a drum kit to pilot, the sound takes on a whole new dimension. He is the perfect foil to Bernieís rapier sharp voice. The acoustic part of the show concludes with 'The Wizard', and Lee returning to his normal perch.
The first guest, in ex-Heep front man John Lawton, joins the fun to assist with the vocal duties on 'Been Away Too Long' and a supremely excellent rendition of 'Stealiní' - probably the best version of it Iíve heard. Following the classic song 'july Morning', the second guest of the evening, Mostly Autumnís Heather Findlay, adds even more vocal talent to the proceedings with a fantastic performance on 'Love In Silence'.
Closing off with great rocker 'The Other Side Of Midnight', and an encore of 'Lady In Black' joined again by Heather (in black, of course) and audience on vocals, this is on the whole a very good recording of the nightís events. The only problem here is that the market is in danger of becoming flooded with Heep live DVDs - Iíve got 3, and thatís by no means all of them. Avid fans and collectors will no doubt welcome this, but to appeal to the general audience Classic Rock Productions need to offer a bit more. This DVD contains no special features, and while the recording quality is excellent, it is only a 3/2:1 sound mix, not full 5:1.
Recorded at The Astoria, London on November 8 2003
Mick Box - All guitars and backing vocals
Lee Kerslake - Drums and backing vocals
Bernie Shaw - Lead vocals
Phil Lanzon - Keyboards and backing vocals
Trevor Bolder - Bass guitar and backing vocals
Special guest vocals: John Lawton and Heather Findlay
Set list:
Easy Liviní Shadows Of Grief Pilgrim Bad Bad Man Devilís Daughter Wise Man Too Scared To Run Firefly Heartless Land Free Me The Wizard Been Away To Long Stealiní Cry Freedom July Morning Love In Silence The Other Side Of Midnight Lady In Black
***
Review by Ian Pollard