ULTIMATE FIGHTING CHAMPIONSHIP
'Ultimate Beatdowns Vol.1 - Metal' (2004)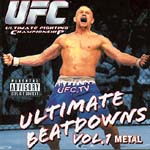 In case you were wondering the Ultimate Fighting Championship is American wrestling for those who the WWE, as the WWF is now called, a bit girly. Replete with bad nicknames, the UFC features such luminaries as Ken 'The Worlds Most Dangerous Man' Shamrock. See what I mean? A wrestler called Ken!
Anyway, the album is a mix of classic metal, new metal and the dreaded previously unreleased metal. So after the faux Wagner intro you're head about the head with "Warzone" by Slayer and "Blunt Force Trauma" by Damageplan, both gems, both strangely appropriate, but setting you up for a fall.
Hatebreed keep the quality going through "Live For This", but then the first blank arrives with the unreleased "Cowards" by American Head Charge. It should have stayed that way. Shadows Fall probably kept "Power Of I And I" in the can for a reason, but I can only assume a reasonable quantity of cash salves their conscience.
Sepultura's cover of "Bullet The Blue Sky" is probably reaching saturation point, but is a welcome respite from the rubbish immediately preceding it. Fear Facotory also score highly with "Slave Labor", although it fails to reach the heights they previously set. From then on in, with the honourable exception of Killswitch Engage, it's fairly hard going.
Icepick are probably the best of a bad bunch, with Stemm, U.P.O, Index Case, Black Flood Diesel and Scars Of Life failing to make an impression. Even Chimaira, who I have a great deal of time for, miss the mark with the unreleased "Indifferent To Suffering".
I don't wont to be down on this release, as I would like to think it was artistic, rather than financial reasons that put so many new acts on the CD, but most just don't pass muster. At least the compilers have tried to cover a number of genres, with a smattering of hardcore and death in amongst the more mainstream numbers, so please don't send round Vitor 'The Phenom' Belfort to sort me out!
**
Review by Stuart A Hamilton