TYGERS OF PAN TANG Visions From The Cathouse DVD
(Angel Air Waves NJPDVD615) (2003)
NWOBHM pioneers return with old and new...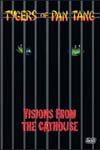 Companion DVD release for the recently released live CD of the same name featuring the band live from 1998. Only guitarist Robb Weir remains from the original line-up which invariably sparks debate amongst fans as to whether a band is legitimate with many original members missing (best example has to be modern day Molly Hatchett who feature no original members at all!). But the music here is faithful to the original tunes and the newer numbers till well alongside the older classics.
Older songs include Spellbound (listed as Hellbound for some reason on the DVD), a blistering Don't Stop By' and the Tyger's version of the 60's song Love Potion No 9. The band also does a fine rendition of Ted Nugent's Cat Scratch Fever' with lead guitarist Dean Robertson coming to the fore. All in all a solid live set of no frills, traditional metal a la Saxon. The DVD bonus features are okay, the highlight being an informative interview with Robb Weir but the promo video ofMystical' is pretty standard fare. There is also a band history all done in text.
Solid live DVD that fans of the band will enjoy and with a new studio album to come later this year the band will be back in the limelight again. If traditional metal is your thing then you'll enjoy watching one of the founders in action.
****
Review by Jason Ritchie
© 2003 All rights reserved.


£17.99
***** Out of this world | **** Pretty damn fine |
*** OK, approach with caution unless you are a fan |
** Instant bargain bin fodder | * Ugly. Just ugly