The televisual history of a Glam Rocker ...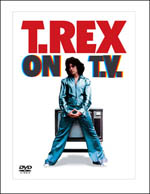 This excellent T.Rex DVD charts the rise and fall of the hippy pixie turned million selling Glam rocker Marc Bolan, who at the height of his fame in the early seventies was arguably more popular than the Beatles.
The DVD comprises four main segments that start with T.Rex's Greatest Hits, and latter career TV appearances, and includes a live 'Music in the Round' session, complete with on set interviews with Humphrey Burton. The whole package finally finishes with an excellent 1997 Channel 4 documentary 'Dandy in the Underworld'.
And in many respects the whole package could have started with the documentary which is a very coherent exposition of Mark's career. Using a scissors and paste approach, and interspersed with a talking heads approach, the TV doc is as good a rock profile as I have seen. Interviewees are both laudatory and critical by turns, reflecting a rock star who turned his back on those who helped him, as he began to believe his own publicity.
Gloria Jones was Marc Bolan's partner and together they had a son Rolan, who was born in September 1975. She recorded the original version of 'Tainted Love', a hit later for Soft Cell, but after her car accident in 1977 faded from the music scene. She is currently working with a charity project in Sri Lanka, building an orphanage, church and music school.
When did you first meet Marc?
I first met him in 1968. Several years later we met up because I was a backing singer for Joe Cocker and Marc came to a gig at the Crystal Palace. Then in 1973 he was touring the States and asked his label to recommend some backing singers...
The years 1973-77 marked something of a personal hiatus. He was not in the best of health and musically suffered bad press - what do you remember of that?
I think Marc was torn between playing the pop hits that had appealed to, letís say, the teenage crowd and moving on musically. He found it very difficult to take that audience with him.
Have you any ideas what Marc Bolan might be doing now in terms of music or art?
Well I think he would still be pushing the boundaries. He was always very receptive to new musical trends.
Rock PR guru Keith Altman comments that Bolan 'wanted to be a star from an early age', a view born out by Peter Jenner who also adds 'Mark wanted to be a huge pop star'. And of course within a couple of years he was. Early mentor John Peel was swiftly dropped, and as Tyrannosaurus Rex's acoustic whimsy gave way to the harder edged T.Rex electric boogie, so Steve Peregrine Took was also shown the door. Took's successor percussionist, the late Micky Finn adds some poignant comments about the music, but perhaps the most significant interviewee, aside from son Rolan Bolan is Chelita Secunda who gave Bolan his Glam look Ė a new image that BF Fallon correctly notes 'opened the door for Bowie'.
The music here comprises all the hits and many little heard latter career efforts. The 'Ten Greatest Hits' are culled from various European TV shows with 'Ride A White Swan' for example recorded in a club in Paris, and 'Get It On' in Bremen, Germany , with Mark miming badly . His trademark Les Paul is slung round his neck but of course he doesn't actually play a note on the clip. By the time of 1973's '20th Century Boy', things are far more guitar heavy, while the 1974 Hamburg recorded 'Teenage Dream' is almost a parody, with Mark's androgynous fat Elvis look clearly bemusing his young studio audience.
Mike Mansfield's 'Supersonic' compilation holds a curious voyeuristic attraction, if only to see the demise of one of the beautiful people. On the 1976 'Rollin Bolan' show Mark looks like a podgy Donny Osmond, stuck in a boogie groove, though 'The Soul of My Suit' does suggest he could have become a off the wall balladeer. Indeed a year later the gloriously ragged 'Dandy in the Underworld' from the strangely conceived kids TV show 'Get It Together' suggest he might have found a new niche in the New Romantics scene
Overall this is a well researched if not exhaustive package and if you can overcome a surfeit of poorly mimed TV appearances, there is much to recommend this excellent DVD. With the total running order at well over three hours 'T.Rex On T.V.'is something fans can come back to at their leisure.
****
Review by Pete Feenstra