TREVOR RABIN '90124' (Voiceprint VP263CD) (2003)

The inclusion of an acoustic work-in-progress 'Owner Of A Lonely Heart' but recognisable all the same makes this CD an essential purchase for Yes fans. Although the Yes of 90125 era receives mixed feelings from the faithful there is no doubting that with Rabin and Trevor Horn on board the prog rockers entered one of their more successful periods commercially.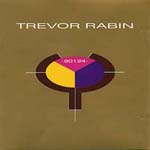 The cunningly-titled '90124' provides fascinating insights to the later Yes album and consists of demos recorded by Trevor Rabin, mainly in the early 1980s. As a series of demos they not only provide insight but they are listenable in their own right although somewhat of their time. They also demonstrate the tremendous talent of guitarist Rabin who now makes his fortune composing for Hollywood movies.
The sleeve notes also provide a clue to the composing process: It was Trevor Horn who provided the distinctive synth 'stabs' in 'Owner Of A Lonely Heart' although in Rabin's demo the song's structure was clearly present in 1981. This is an interesting if not exactly essential purchase although it does complement a welcome series of reissues on the Voiceprint label which reprise Rabin's solo albums. All reflect his guitar and composing skills whilst '90124' may have wider appeal for Yes completists.
Walls
© 2003 Trevor Rabin/Voiceprint All rights reserved.
***** Out of this world | **** Pretty damn fine |
*** OK, approach with caution unless you are a fan |
** Instant bargain bin fodder | * Ugly. Just ugly