TRANSATLANTIC 'Live In Europe' (Inside Out IOMCD140) (2003)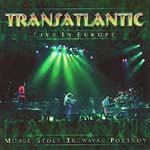 Transatlantic was a sadly short-lived prog 'supergroup' that united the talents of Neal Morse (Ex-Spocks Beard), Mike Portnoy (Dream Theater), Roine Stolt (The Flower Kings) and Pete Trewavas (Marillion). Having recorded 'Live in America' following a short USA tour in support of their first 'SMPTe' album, this double CD set is a statement from a slightly more mature band, recorded during their 'Bridge Across Europe' tour, in Tillburg Holland at the excellent 013 venue.
The material on the first CD is largely taken from the band's second studio release 'Bridge Across Forever' and things get underway with the 26-minute long 'Duel with the Devil'. But wait, that is only the fourth longest song on the album! As Mike Portnoy himself says at the end of the tune, 'nothing but fucking epics tonight!' Clearly this is a disk that will appear to fans of long progressive epic tunes, but the creative geniuses in this band also know how to write a fine melody and to deliver a melodic guitar solo, so please don't allow that to put you off.
The disk continues with the two shortest tracks, 'My New World' and 'We All need some Light Now', both of which seem closest to 'The Flower Kings' material in that they are less aggressive and have a certain Beatles-like quality to the choruses, so one suspects that Roine Stolt had a leading part in their composition. Then the band confirms their love of Beatles material by continuing with the 30 minute 'Suite Charlotte Pike Medley', into which they interweave large extracts of tunes from 'Abbey Road'. Never having been a huge fan myself, the ease with which the Lennon/McCartney compositions sit alongside such supposedly 'modern' compositions does make one realize just how 'progressive' the fab four were themselves.
Disk 2 opens with band introduction and launches into, in the words of Neal Morse, 'my favourite. The epic to end all epics', namely 'Stranger in Your Soul', another extract from the 'Bridge Across Forever' album. A fantastic tune, heavy with the hallmarks of a Morse composition, it makes another 30 minutes just fly by.
Of course the band has to return for an encore, and this being Transatlantic, the encore isn't short. 'All of the above' was the major band composition from the combo's debut disk and unfortunately, the title says it all. It can't help sounding like a rag bag of Prog clichés - some better than others and while I remember enjoying the band play this live, on disk it has always been one to skip.
So there you have it. The best part of two and a half hours of music, played by some of the finest Prog musicians of recent times, however the material itself and the length of the tunes mean that it is probably one for fans only. Which is a shame as the release fails to transmit the humour and joy that is apparent when watching this band in action. Neal Morse is an amazing musician and a real performer who I think many would appreciate more, if they could see the enthusiasm and good humour he displays on stage. For that, I suggest that you pick up the 2DVD version of this concert or perhaps even the Limited Edition 2DVD/2CD set.
****
Review by Charlie Farrell
Walk Into Nowhere
© 2003 Transatlantic/Inside Out All rights reserved.


£14.99