TOTO Live In Amsterdam DVD
(Eagle Vision EREDV325) (2003)
Top melodic rockers go ten pin bowling...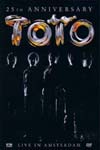 Companion DVD release to the recently issued live CD, although you get more songs on the DVD. Toto are arguably at the peak of their live form at the moment and seem to be a band reborn ever since original vocalist Bobby Kimball rejoined. All the classics are here including 'Africa', 'Rosanna', 'Hold The Line' plus medleys that include the rockers 'English Eyes' and 'Goodbye Elenore'.
Very well shot video and clear picture and sound make this a must have for all Toto fans. Special mention to guitarist Steve Lukather who has to be one of the world's most talented guitarists, just watch the bonus footage as he strums through some acoustic passages and does an impromptu 'Stairway To Heaven' backstage. The backstage footage is fun but I always think how often will you really watch it again? How many times can a fan watch Toto go ten pin bowling?
In a word - essential!
***
Review by Jason Ritchie
© 2003 All rights reserved.


£17.99
***** Out of this world | **** Pretty damn fine |
*** OK, approach with caution unless you are a fan |
** Instant bargain bin fodder | * Ugly. Just ugly