TOM WAITS 'Real Gone' Epitaph 66782 (2004)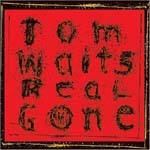 Singer, songwriter, thespian, Waits ploughs an idiosyncratic furrow through the American musical landscape. His journey is restless through reinvention and this successor to his 2002 releases – Alice and Blood Money – sees the singing hobo leap into yet another musical theatre to land firmly on his feet.
Whilst the sad, dark and droll social commentary of the songs by Waits and long-time companion and collaborator Kathleen Brennan remain, Real Gone departs from the more conventionally-structured 'European' releases to bring a funky melange of song and sound that cross African and Latin rhythms and melodies with blues and Jamaican music.
This heady brew is served in something of a cut-and-paste enterprise by a live band over vocals and voiced percussion pre-recorded by him in Waits' bathroom at home.
Vocal effects are a Waits trademark of course and they are prominent here, whooping, popping, squawking, croaking, gibbering, and whooshing and hissing (as on called Clang Boom Steam) as Waits clanks along the track.
Wait's range is undiminished and Real Gone packs cacophony, celebration and sad balladeering (check out Day After Tomorrow) in equal measure.
Yet it posits its creator somewhere' else' for us to discover him. Part of Wait's attraction is the uncertainty about him. We are not safe with Waits and we love it.
It is not unreasonable to suppose that whilst this sounds a delicious prospect to the Wait's devotee, it may not play so well to those new to his work. Yet, for all its visceral rawness, this record demands replaying and rewards in the process.
Buy this and a copy of 1978's Blue Valentine for Waits' seminal cover of Somewhere from the musical West Side Story. What a guy.
****
Review by Peter Muir