TOM PETTY Highway Companion
American Recordings (2006)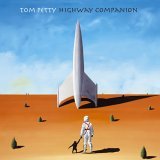 The follow-up the disappointing 'The Last DJ' album sees ELO's Jeff Lynne back on board both production and playing wise. The only other musician involved is Mike Campbell, a member of Petty's long time band the Heartbreakers.
The sound is very crisp and clear as you'd expect with Jeff Lynne at the helm and the songs hark back to some of Petty's best albums namely 'Full Moon Fever' and 'Into the Great Wide Open'.
Listen to 'Big Weekend' and you'd swear it was from one of these albums. 'Saving Grace' bizarrely brings to mind Canned Heat's 'On the Road Again', mainly due to the background riff and again is crystal clear slice of Petty genius.
Petty is in reflective mood on much of the album on tracks such as 'Turn This Car Around' and ' Flirting With Time' (he recently stated he had given his last interview) perhaps suggesting he is winding down his career (hopefully not though!). The jangly guitars and crystal clear percussion are back as well I am happy to report. Only 'Night Driver' fails to hit the spot being a bit too mellow.
If you like Petty's solo albums then you are in for a treat and hopefully Jeff Lynne will be involved again next time around. It is not as instant as say listening to 'Full Moon Fever' but repeated plays open up delights each time, surely the sign of good music.
****
Review by Jason Ritchie
***** Out of this world | **** Pretty damn fine |
*** OK, approach with caution unless you are a fan |
** Instant bargain bin fodder | * Ugly. Just ugly
get ready to rock is a division of hotdigitsnewmedia group