Rare footage of rock innovator...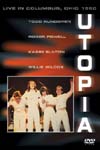 Todd Rundgren has an extremely loyal and dedicated following and this DVD release won't do his reputation any harm at all. Recorded in 1980 with his band Utopia, it provides rare insight to the phenomenon not least the tacked-on recent interview with the man himself.
Rundgren has always been highly regarded as a producer as much as a player with credits for Meat Loaf, New York Dolls and Grand Funk Railroad amongst others. Whilst this film lacks the sonic and visual sheen of the 'Live In Japan' set (recorded a decade later) it is historically important as the band were then at the height of their popularity.
Split into three segments, material is featured from the 'Adventures In Utopia' and 'Oops Wrong Planet' albums. The second section features showcases for the individual band members as well as a round-up of Rundgren's classic tunes. Typically, and perhaps annoyingly, the best are given medley treatment: 'Can We Still Be Friends' sounding similar to Hall & Oates. Part 3 is more of a band showcase, at times they sound like The Tubes and it is perhaps no coincidence that Rundgren produced and wrote for that band whilst also evidencing their visual production values.
Unfortunately a duff microphone spoils the intro to Rundgren's brilliant 'Love Is The Answer' but for an insight into one of rock's true heroes this is hard to beat. Those weighty portable synthesizers and naff costumes make it a period piece but no less enjoyable for that.
***
Related>> DVD review
Related>> CD review
Artist website
Review by David Randall
© 2003 All rights reserved.