THUNDERCLAP Pick N Tell Speakeasy SPEA001 (2005)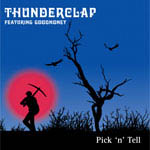 "Something In The Air" was a classic 1969 one hit wonder which Pete Townshend helped bring into the light of day. The band could never follow it up but several hundred years down the line and Pete Goodall, touring guitarist with the original Thunderclap Newman re-recorded it, and following extensive airplay went into the studio to record an album largely co-written with Cream's old lyricist, Pete Brown, who also laid down the original vocals.
However, he was looking for something a bit heftier in the vocal department, so dragged in hoarly old blues shouter Zoot Money to sing the songs. Although Pete Brown does sing one of the tunes. Now, I know what you're thinking. Not another bunch of old rockers having one last crack. Well, yes, but wait, this is a fabulous album!
When you have the likes of Tex Makins, the original Thunderclap Newman and Blue Flames bass player, Nick Payn, who plays regularly with Paul McCartney and Bill Wyman, providing horn arrangements, baritone, tenor and alto sax, flute, bass clarinet and harmonica and the late, great Dick Heckstall-Smith performing the sax solos alongside Richard Bailey who played drums with the Jeff Beck Group, Steve Winwood, and the Average White Band, then you've got a bunch of guys who know how to kick up a storm.
Which they do across 10 tracks* of driving, funky, soulful Stax like tunes, which should get even the grumpiest old grouch (i.e. me) smiling and bopping along. Zoot Money he has that rich, lived in blues voice that Britain seemed to breed in the sixties - Chris Farlowe, Tony Ashton, Eric Burdon and countless others – whereas now we have reedy, skinny white boys pretending to emote. But this is the real deal.
* I'm ignoring the remake of "Something In The Air" and "Own Way Home" which don't flow with the rest of the album, but which unfortunately appear at the beginning of the CD. To enjoy it properly programme your CD to start at track 3, "Sunshine In My Life". From that point on it's pure pleasure with the sound of musicians kicking into a groove they love. In fact, you can buy the album as a download at www.speakeasyrecordings.co.uk so just buy tracks 3 through 12!
With some fabulous keyboard flourishes from Dave Moore and the obligatory soul girl backing vocals – nice work Siggi Josiah and Lynn Jackaman, this album puts Jools Holland and his anaemic Big Band albums to shame. Personal favourites? Well I like it when the band takes the time to stretch out, so the seven minute plus ballad "Waiting Here For You" is a treat as is the rollicking "The Mask". But really, this is an album that should be taken as a whole and enjoyed the way albums used to be.
****
Review by Stuart A.Hamilton