THUNDER Robert Johnson's Tombstone
STC Recordings (2006)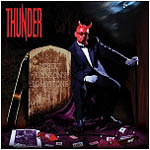 Thunder follow-up last year's 'The Magnificent Seventh' with another strong studio release. The band seemed to have found their stride again as their last couple of studio albums prior to 'The Magnificent Seventh' had a few good songs but overall were pretty average.
It is classic Thunder in style from the innuendo lyrics and hard rock guitar on 'Dirty Dream' through to album closer 'Stubborn Kinda Love'. However the band do take a few chances namely on the acoustic guitar/cello backed 'My Darkest Hour' (not a Megadeth cover!), which just shows how good a singer Danny Bowes is and the title track which as guitarist Luke Morley states in the PR blurb represents all that Thunder is about.
The guitar riffs on the latter are some of the best he's laid down since the band's classic debut. Bassist Chris Childs gets a co-write on 'Last Man Standing' where again Morley's guitar riffs and soloing delight the ears and of course the percussive delights of Harry James never tire on the listener – he is a very underrated drummer.
Thunder are on a roll, both live and in the studio and long may this continue.
****
Review by Jason Ritchie
---
| | |
| --- | --- |
| | Print this page in printer-friendly format |
| | Tell a friend about this page |
***** Out of this world | **** Pretty damn fine |
*** OK, approach with caution unless you are a fan |
** Instant bargain bin fodder | * Ugly. Just ugly