THRESHOLD 'Critical Energy' (Inside Out 08960532) (2004)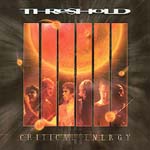 One of the better bands I've discovered since starting the Newswire back in 2002. Big on power chords and strong lyrical themes, coupled with the superb vocals of Andrew McDermott. This double live CD (and accompanying live DVD) captures the band on their 'Critical Mass' tour.
Highlights? There are many but try the riffing on 'Phenomenon' - sheer aural bliss. Andrew McDermott sounds like Thunder's Danny Bowes on some tracks notably 'Angels' and 'Falling Away'. The second disc has treats like 'Sunseeker', 'Light and Space' and 'Sunrise On Mars' to name a few.
An essental live album, with a high quality sound, just wish I'd seen them on this tour now...
Critical Mass (CD review)
****
Review by Jason Ritchie


£13.99
Innocent
© 2004 Threshold/Inside Out. All rights reserved.