THREE DOG NIGHT
'Three Dog Night/Suitable For Framing'
(Gott GOTTCD001)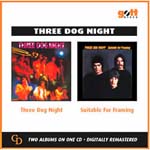 Three Dog Night were mega in the States in the late 60s to mid 70s, but hardly created a ripple on English shores. Common opinion has it this was because at a time when most bands were airing their own creative juices, Three Dog Night's forte was taking the material of others and delivering it in their own West Coast style.
This Gott Discs release sees their first two albums from 1968 and 1969 remastered and squeezed onto a single compact disc. And full marks again to Gott for a beautiful remastering job, lovingly packaged and presented.
Originally formed by Danny Hutton who had previously worked as a vocalist for Hanna-Barbera (and who had been unsuccessful in auditioning for the Monkees) Three Dog Night were unique in having three lead vocalists, which meant a seven-man line up. And they picked some stunning material, covering songs by the likes of Harry Nilsson, Traffic, Lennon/McCartney, Randy Newman, Tim Hardin and Neil Young. And that was just on their first album.
The second includes covers of Dave Mason, Elton John/Bernie Taupin, Sam Cooke, and Laura Nyro.
And despite the range of writers, Three Dog Night had their own - pre Doobies - soulful West Coast style, dominates by harmony vocals over a sturdy guitar, bass, drums and keyboards.
You can see why these albums went gold in the States and both still sound pretty damn good today.