Fun, heavy, thoroughly enjoyable...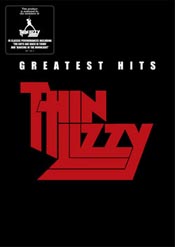 When you look at a set like this, it makes you realise just how many hits Thin Lizzy had. For a band that was better known as a live band, there's many a promo video here.
On the premise of use on TOTP or other music shows, the band recorded several promo videos, most just using the on stage scenario or genuine live material.
Kicking off with "The Boys Are Back In Town" and "Don't Believe A Word", the sing-along classics set the scene immediately.
It's good to see the band in action, especially on the genuinely live material (circa Live And Dangerous). The late Phil Lynott was a legend and unique too, as the music here shows.
Plenty of duelling guitars, mainstay guitarist Scott Gorham works well with Brian Robertson and Gary Moore. The material with Snowy White (especially "Killer On The Loose") and Darren Wharton ("Thunder And Lightning") is pretty hot too.
The live tracks show how heavy and energetic the band were, something never quite captured in the studio.
Early tracks such as "The Rocker" shouldn't be ignored. Fun, heavy, thoroughly enjoyable.
To finish, a rare TOTP appearance with "Whiskey In The Jar" from February 1973.
It's easy to see why the band were name checked by every self respecting Irish musician around, and many more too.
This is no Live And Dangerous concert, it's not intended to be. As a Greatest Hits, as a collection of videos or live performances for hit singles, it serves the job perfectly.
A booklet contains a brief history, but there's little in the way of extras.
A basic package, but excellent and essential for anyone with the remotest interest in the band.
****½
Review by Joe Geesin
Scott Gorham interview
DVD review (Live, 1978)