THEA GILMORE Harpo's Ghost Sanctuary (2006)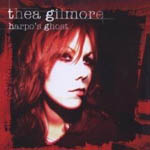 With her last release - the excellent Avalanche - Thea Gilmore almost broke into the big league. That was three years ago and her follow-up - Harpo's Ghost is her first on a major label. In the intervening years it's been an emotional roll coaster for Thea - breaking up with her long-term partner, depression, getting back together and pregnancy. She's also toured the US relentlessly trying to break Avalanche. And at the same time, she's' been penning songs as prolifically as ever.
It's quite amazing that after six excellent albums in eight years she still a stone's throw from stardom. It couldn't happen anywhere else. If she were Canadian (for example) she would be hailed as the new Sarah McLachlan. But then Thea's never been one to present an easy target as she shifts from style to style. And that's a pattern evident again on Harpo's Ghost.
It opens at a canter with The Gambler - a slow, ponderous and brooding love song, but the album really lifts off with the wonderful Everybody's Numb which is up there with the best of Thea's material. A song about the inertia and apathy of modern life delivered a bright vibrant electronic hip hop beat, acerbic vocals and some excellent Edge like guitar work.
Thea's Stateside trips have had a clear influence. Red White And Black is gentle 1960's country folk brought up to date, with more Edge like guitar work and Contessa has a similar feel. Your Darling sounds equally US influenced and could easily taken as Sarah McLachlan fronting the E Street Band.
Elsewhere collaboration with Waterboy Mike Scott resulted in throbbing slice of transatlantic rock and roll that is We Built A Monster. The List is Thea at her best - moody pop/rock reminiscent of Heads Will Roll from Avalanche, with some excellent dobro work from Jim Kirkpatrick. And The List is another classy number from the same book of song writing.
Whistle and Steam is slow and atmospheric, with haunting guitar work from Eric 'Roscoe' Ambel, one of Steve Earle's favoured sidemen and backing vocals from Kathryn Williams. Cheap Tricks is more classic Gilmore - a stunning slice of perfect pop/rock.
A graceful cello backed ballad - Slow Journey No 2 - 'officially' closes the album, although a 'hidden' track lurks - a pop/rock song Play Until The Bottle's Gone which has a Beautiful South jauntiness about it.
So will Harpos' Ghost be Thea's break through album? Well, it's on a bigger label, there's a bigger production and it's got the States in the crosshairs. And the girl's got it all - pop/rock, folk, balladry and credibility. But success is fickle. By rights she should be a national treasure. But what do I know?
****
Review by Pete Whalley
Everybody's Numb
© 2006 Sanctuary Music Group. All rights reserved.
---
| | |
| --- | --- |
| | Print this page in printer-friendly format |
| | Tell a friend about this page |
***** Out of this world | **** Pretty damn fine |
*** OK, approach with caution unless you are a fan |
** Instant bargain bin fodder | * Ugly. Just ugly
get ready to rock is a division of hotdigitsnewmedia group
Why should I buy this CD?
Under appreciated English songstress makes (yet another) excellent album and (yet another) play for a seat at the top table. .
Burn baby burn
Everybody's Numb, Red White And Black, The List, Whistle And Steam, Cheap Tricks, Play Until The Bottle's Gone