THE WHO Endless Wire Universal (2006)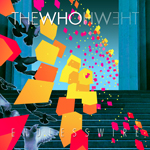 The British icons are back, and although just a duo now, the key elements are in place.
You have Pete Townshend, who is more than just a guitarist; song writer, arranger, all round composer, producer, artist, and multi-instrumental.
Then there's Roger Daltrey, who is more than just a frontman and singer; he's an actor (in the metaphorical sense) and interpreter. The only person you'd entrust to interpret and front Pete Townshend work.
So how does the first new studio album in nearly 25 years stand up? Rather well, actually.
It's a far cry from the 'classic Who', and rightly so. Both have moved on, and aged rather well. Daltrey's voice is not strained or ropey at all, it's still classic and still there. Younger vocalists have not aged so well.
Opener 'Fragments' is a good rock tune that hangs in the mind well, and 'A Man In Purple Dress' is acoustic, good in that it doesn't wonder at all.
'Mike Post Theme' mixes modern big production with that classic Who sound.
Every angle is explored by the song writing, The Who play their complete range on this album, which mixes hard rock with acoustic.
The basic Endless Wire encompasses nine tracks, the remaining 10 tracks are the Wire & Glass mini opera, something Townshend clearly put a lot of love and effort into.
The concept I won't spoil for you, go buy and enjoy! Suffice to say it's well constructed and some of the band's best work in a long time.
Guest musicians include drummer Zak Starkey, bassist Pino Palladino and pianist Rabbit Bundrick amongst a host of others, with Townshend providing some drums, programming, banjo etc.
The limited digipak comes with a bonus DVD of the band on stage in France, July 2006. Five tracks that close with a 10 minute take on 'Won't Get Fooled Again' must be worth checking out.
Better than any solo work, the pair work well together and it's strong enough and good enough to work under The Who banner.
****
Review by Joe Geesin
It's Not Enough
© 2006 Universal. All rights reserved.
---
| | |
| --- | --- |
| | Print this page in printer-friendly format |
| | Tell a friend about this page |