THE URBANE 'Glitter' (Inside Out IOMCD139) (2003)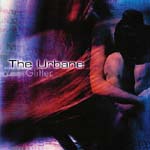 Built around current Arena/John Wetton guitarist John Mitchell (who also handles vocals), he is joined by drummer Gary Ford, bassist Martin Raggett and keyboard player Patrick Darlington. This is the band's second album, a follow-up to 1999's 'Neon'. Certainly a departure from other Inside Out releases in that the Urbane are modern/alternative rock in sound. 'Chain Smoking A Way To Your Heart' is a crackin' opener - a strong hook filled song and a single if ever there was one!
No real comparisons musically (maybe XTC and Radiohead at times), just damn fine guitar driven rock like 'In-Between' and '12'. Bizarre track? Has to be the cover of Cyndi Lauper's 'Time After Time', where it gets a Lemonheads treatment. The cover works well, not least that it's a male vocal. Shades of progressive rock can be found on 'Give It Away' in the switch between light and shade musically. Only one minor criticism is that the album is a tad overlong and possibly a couple of tracks could have made bonus tracks on singles.
John Mitchell shows yet another side to his talents, in that not only is he one of the better UK guitarists out there but has a decent voice as well. It's a grower of an album and one I am sure that will still be played years down the line unlike many 'instant' albums.
Chain Smoking A Way To Your Heart
© 2003 The Urbane/Inside Out All rights reserved.
Related >> John Mitchell interview
****
Review by Jason Ritchie


£12.99