THE RATS 'The Fall And Rise - A Rat's Tale'
Angel Air SJPCD165 (2004)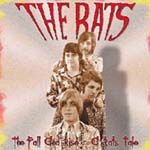 One of the lesser known groups to emerge from Hull in the north of England, which is a shame because they predated The Housemartins by 20 years and were far better too.
Between 1964 and 1969 and led by vocalist Benny Marshall, the band recorded a couple of singles and a number of sessions that comprise the 12 main tracks here. With a nod towards mod, the music was almost typical British Invasion; sadly the band weren't really known outside the north of England. Such a shame with the talents of a young Mick Ronson onboard. And although his talents were obvious from the outset, the Rats were far from his backing band.
'Mick's Guitar Boogie' and 'Morning Dew' are borrowed from the guitar hero of the time, Jeff Beck, while 'New Orleans' is a take on 'House Of The Rising Sun' (and yes the Animals shine through too). Mixed with several self penned numbers, it's a corking set from the height of the 60s. Three bonus tracks date from 1998.
While Ronson went onto bigger things, the original group shouldn't be forgotten. The bulk of the music, however, really isn't much better or different to the bulk of what was strong at the time.
Website
**
Review by Joe Geesin


£12.99
The Rise and Fall of Bernie Gripplestone
© 2004 Angel Air Records. All rights reserved.