THE LIZARDS Against All Odds Hyperspace HSR1014 (2006)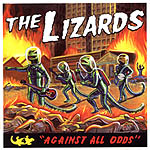 Make no mistake. This album comes from an age when a low-slung, slightly battered Les Paul was de rigeur and The Riff was God.
This is The Lizards' fifth CD and is destined to win them new fans. Unleash secret weapon, the golden tonsils of none other than Glenn Hughes, and you have an irresistible combination.
The writing is pretty consistent throughout, with a handful of really strong opening tracks before the band launch into a prog opus called 'Ariel'.
How do you think the latest CD compares to previous releases in terms of style and content etc.
Randy Pratt: Possibly, as a whole, slightly more "prog" than the others. More songs about women.
What are your favourite tracks on the new album and why?
RP: I like "On a Wire" I think that the riffs are world class. Sounds like "Trapeze' and "Free", two of my favorite bands. I also am very pleased with "Eleven".It's romantic without being sappy. Pat's chord changes are great. So are Mike's orchestrations.
How did you hook up with Glenn Hughes, and did you write the 'funkier' tracks with Glenn in mind? Are those tracks representative of the band or are the blues rock riff-based tunes more typical?
RP: I sought out Glenn years ago, just to express my admiration. While we were touring Europe in '03, our agent put us together and we did a two month tour with him and really bonded. I wrote "Up the Stairs"in the 80s. I've spent a lot of time playing funk. The other guys in the band are all funky. You'll hear it on our other CDs. To me, blending hard rock/heavy metal with funk is a life mission.
By track 9 you recognise that there is a funky undertow and they do nothing to hide it: 'Revelation No 9' is a fine showcase for Hughes' soulful vocals whilst 'Up The Stairs' is replete with horns.
The shift from bluesy riff rock to funk rock may throw some listeners and the band are not so convincing on the slower and more contrived 'Take The Fall' and 'Eleven'.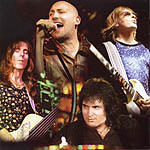 With ex-Rainbow and Blue Oyster Cult drummer Bobby Rondinelli and Riot's Mike DiMeo on vocals (and keyboards) this album will be lapped up by those whose heads are (just about) in 2006 but their hearts are in 1974.
The opener 'I'm No Good', 'On A Wire' (with Hughes helping on vocals) and 'Bad Luck Is Come To Town' come straight from that Free/Led Zeppelin/Bad Company school of raunchy blues rock, driven impressively by Patrick Klein's riff-fest.
'Can't Fool Myself' nods to Foreigner but then develops into a groove that Santana (circa Jin-Go-La-Ba period) would have been proud of, with some great keyboard and guitar interplay.
The instrumental 'Planck Time' is both infectious and a brave diversion, with Randy Pratt's harp spicing up proceedings.
In truth the album as a whole fails to live up to those great opening tracks, but it will make grown men - who should know better - very happy.
***½
Review by David Randall
I'm No Good
© 2006 Hyperspace Records. All rights reserved.