THE KITES 'Liquor & Poker' (2004)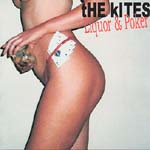 Three piece, UK based band who tread the path of retro rock similar to the Jets with a big nod to the Stranglers. Some foot tapping tunes on here like 'Sweetcheex' - very early Stranglers with it spunky riff and 'Liquor & Poker' with a riff as dirty as its title suggests!
There are some covers as well including a punked up 'Wuthering Heights' - no trace of the Kate Bush original bar the lyrics. The Kites also tackle Kraftwerk's 'The Model', which keeps more to the original than the aforementioned 'Wuthering Heights'.
Not a bad CD but for me it lacks a killer tune or two. Having said that, just to hear 'Wuthering Heights' is worth it on its won.
****
Review by Jason Ritchie
Just Me
© 2004 The Kites. All rights reserved.