THE KINISON 'What Are You Listening To?'
LaSalle Records/Atlantic (2004)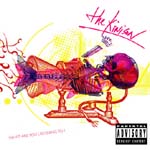 Although The Kinison have been around since 1999, 'What Are You Listening To ?' is their debut album. An E.P did surface in 2002 for Fearless Records, but this is The Kinison's first real collection of songs served up CD.
The album itself is some basic raw rock, the type that would appeal to teenagers with lots of angst looking for something new to take out their frustrations on.
Opener, 'The Farm & The Girls', is a ferocious onslaught of buzzing guitars and in your face vocals. The rest of the album flows with plenty of raw and sometimes bruising tunes, which are carried along with some infectious melodies.
With eleven songs packed into 37 minutes, there is little time settle down, or any instrumental prowess to display. The Kinison are short and sharp to the point.
Their raw sound is emphasised in the brilliant, 'Lake Calmern Is Full Now'. The band sound like they are having a whale of a time throughout, the sound is very live and spontaneous.
With a collection with no fillers, 'What Are You Listening To ?', from start to finish is a captivating album of catchy, sometimes harsh power pop, with some real rock sensibilities thrown in.
Fans of Blink 182, Busted and alike, take note, The Kinison might be the band for you.
****
Review by Graham Boyle