THE GENTLEMEN Smile Back At Me Nail The Truth (2006)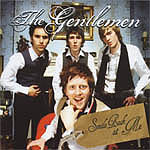 It's a strange album this. Full of contradictions. Let's start with the sleeve - four cheeky wags in evening dress, looking like it's definitely not their natural habitat. To be honest it looks like the sort of album you'd see on a 'all cds a £1' Blackpool seaside stall. The inner sleeve has them playing the country set, but you get the firm feeling it's a piss take. Maybe it is, maybe it isn't. And then the credits tell us they're all Christians. What the ...?
The contradictions continue on the CD - imagine influences as varied at Tenpole Tudor, The Undertones, Squeeze, Hall and Oates, Queen, 10cc,The Darkness and the Arctic Monkeys. I know, it sounds a mess. But believe it or not, The Gentlemen - the latest band about to emerge from Sheffield - have pulled it off. There's moments here, when you think - this is so damn good it must be some old pros taking the piss. But it's not.
Smile Back At Me is packed with brilliant songs that get under your skin from first play and there's some great playing (and singing) from Nick Noble (vocals, piano and guitar), Sean Walsh (guitar and vocals), Josh Cana (bass and vocals) and Joel Cana (drums).
The opening track Electricity sets the tone - infectious as hell and with 'hit' stamped all over it - this is pop/rock stripped down to its basics and given a damn good rodgering. But unlike The Darkness a lorry load of kitchen sinks isn't added for effect. I'll be singing this in the bath for the next month. Digging Deep adds a hint of funk.
The Course Of True Love could be Arctic Monkeys playing The Darkness. Hard to imagine, but give it a chance. Sam Jones - who produced the album- and who has worked with Arctics instantly fell in love with I'm Not Leaving and was eager to work on the mix. It's another potential hit.
Grateful brings Freddie Mercury to mind - a gorgeous ballad, but with plenty of rough edges that lends a charm not often heard in these days of over-polished performances. Laurie is pure Hall And Oates with Justin Hawkins on vocals. Forgiveness adds a few heavy riffs, while My God You Are Beautiful is, quite literally, beautiful - topped only by the stunning piano ballad Broken.
OK, the joke's over boys - just who the hell are The Gentlemen? No one with an album sleeve this bad is this good.
****½
Review by Pete Whalley