THE DOITS 'This Is Rocket Science' Wild Kingdom (2004)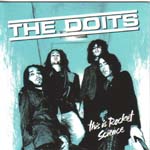 I have one thing to say to the Doits' lead singer and guitarist, Altay Sagasen - STOP SINGING!!! I am very intolerant of artists who cannot sing in tune and Altay is unbelievably flat. My advice is the same to backing vocalist Anders Gsransson, who is only marginally better.
Now that rather harsh rant is over, we can start focusing on the band's new album, 'This is Rocket Science'.
Here we have a collection of 70's-sounding 'gritty' Iggy Pop/ Ramones sounding tracks. With such revolutionary titles as 'Hey Rebel', 'Rendezvous with the Devil' and 'Never again', you would think that the Doits were here to continue the punk attitude of the abovementioned artists and, although this band seems to have the potential to do this, they have not succeeded in either achieving that feeling of rebellion, nor have they created anything new, in my opinion.
'Some Kind of Motion' starts off with a promising riff until, unfortunately, Mr Sagasen decides to step in and sort of ruin it all. Overall, however, there is not much to keep one's attention fixed, apart from a few hooks here and there.
I re-iterate, though, that the solution to the band's problem might be in finding a new vocalist , for Sagasen is by no means a bad guitar player.
With a rather average production, this album may not go very far at all - it may be spun a couple of times in the more 'indie' venues in Camden Town (if the Camden Palace still exists, I'm sure the plastered students will happily bop along to this.)
Make of it what you choose, but this is definitely NOT Rocket Science!
**½
Review by Emily Dgebuadze