THE DARKNESS 'Permission To Land' Atlantic 5050466745224 (2003)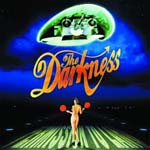 Certainly the buzz band of the moment, playing every festival in the UK going and headlining their own tour in October, again in the UK. A band who put the fun back into rock (the lead singer has his own team of designers!) and fully believe in what they do. They are no Spinal Tap/Bad News pi** take - Consisting of brothers Justin (vocals/guitar/piano) and Dan Hawkins (guitar), Frankie Poullain (bass) and Ed Graham (drums). Sound wise they take the classic rock riffs of AC/DC and Foghat, adding Justin's helium vocals on top (the nearest vocal comparison would be the late, great Freddie Mercury on his solo 'Exercises In Free Love' or Jeff Buckley on 'Hallelujah'). In fact if Freddie Mercury was alive today I personally think he would love this band. Basically, you will love or hate this band but give them their due they make a change from dance, manufactured pop acts and nu-metal!
Album opener 'Black Shuck' is about a killer dog in Lincolnshire! Big, solid riff drives the song along - good opener. The three singles all follow in row next - 'Get Your Hands Of My Woman', where the vocals go so high as to worry the local dog population! Current single 'Growing On Me', with its catchy AC/DC riffage and classic outr guitar solo. Expect to see this song creep up on rock compilations for years to come! The band's first single 'I Believe In Love' romps along and those vocals feature high in the mix again. Things slow down for 'Love Is Only A Feeling' a gentle ballad with layered harmonies and plenty of guitar, including some Spanish style acoustic guitar. 'Givin' Up' is maybe the weakest track on here, although the guitar chords keep your foot tapping (definate Brian May styling going on here). My favourite lyrics have to be on 'Friday Night', a tale of schoolboy love, where the hero of the piece goes to Bridge Club and err, Needlework. The lyrics may not get you thinking or challenge your beliefs but that would be missing the point of the band entirely. One other track to highlight is 'Love On The Rocks No Ice', a slower song featuring a driving beat and just how high does the vocal go? Blummin' high!
Classic album - it has got the catchy hooks, big production and riffs a plenty - just don't play it to your kids as there a stack of swear words! There are two key elements to this album's success, the guitars (simple, driving rhythms with tasty solos on top) and the vocals (not all high and good use of layered harmonies on the choruses). Let a little Darkness into your life!
Related>> Rising Stars Interview
*****
Review by Jason Ritchie