THE DAMNED Final Damnation Castle (2006)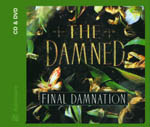 Legendary punks The Damned had been through a turbulent time, with a myriad of line-ups. They may have been the first punk band and released the first punk single, it wasn't they went solid gothic pop/rock and signed to MCA in the mid 80s that they had their biggest successes. So in 1988 the original line-up reformed for a live show in London. The orig LP and accompanying video are here on this set annotated CD/DVD set.
The set kicks off with Dave Vanian, Rat Scabies, Brian James and Captain Sensible (complete with shorts, beret and gas mask) on fine form, energetic, plenty of talking to the audience. Top punk rock, noise, blistering guitar solos, crashing drums, it's all good stuff. "Neat Neat Neat", "Fanclub" and "New Rose" – all top Damned tracks.
Midway through, the band leave the stage, and re-emerge sans James, but with the more current line-up in place, featuring new guitarist and a keyboard player too. The music continues in the same vein and the crowd love it too. "Love Song" is another highlight.
Never mind the bollocks, the Damned did it first and did it best too.
Clichéd yes, but fun too.
****
Review by Joe Geesin