THE ANSWER Rise Albert Productions (2006)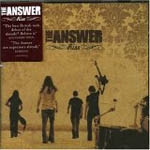 The Answer are another young band steeped in 70's rock influences and in particular Led Zeppelin. They have been no slouches in the live department either currently supporting Whitesnake and appearing on the Who's summer festival dates.
From the opening guitar solo onwards it is an album chock full of classic rock with very catchy choruses and a wonderfully clear production throughout.
Strangely the opening track, 'Under The Sky' is possibly the weakest track on the album but the band swiftly get into gear on 'Never Too Late' - like Led Zep jamming with the Black Crowes.
'Come Follow Me' really ramps up the hard rock factor - close your eyes and you'd swear it was classic Foreigner! The band do stretch their wings with a slide blues guitar meets gospel backing on 'Preachin' - the guitar on this is a real blues stomper.
The album closer 'Always On Mind' brings the album to a gentle close, with those neat harmonies still in place.
The Answer have produced a strong debut album that has hints of Led Zeppelin, the Black Crowes and even Foreigner. Along with Glyder and Wolfmother, this album deserves a place in your collection.
****
Review by Jason Ritchie
Interview
---
| | |
| --- | --- |
| | Print this page in printer-friendly format |
| | Tell a friend about this page |