TEDDY GEIGER Underage Thinking Columbia (2006)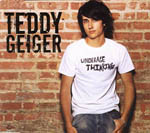 Underage Thinking is the debut album from emerging New York singer-songwriter Teddy Geiger.
At only seventeen, Teddy is something of a prodigy, his song writing and delivery many years advanced of his tender years. He first came to prominence as one of the Finalist on VH1's "In Search of the New Partridge Family". He's also been cast as a rising young pop star in "Love Monkey," a CBS television pilot.
So you get the picture - scream teen - a young girl's (and probably many mother's) pin up of choice. But actually what you have here is a mature and polished offering. The songs are in the main ballads delivered with either piano or acoustic and Teddy's vocals are remarkably mature. His voice has gravel beyond his tender years. If he wasn't so young, you'd think he'd been raised on Steve Perry and Huey Lewis.
It's pleasant stuff that Americans do so well - clean cut pop with a hint of rock that will appeal to pre and post pubescents alike. There's plenty of big choruses, perfect playing and vocals with just the right level of emotion. Perfect radio music. It's interesting in that it's everything that the new wave of Britpop isn't - polished, safe and predictable with nods to some of the greats - Carole King, Springsteen and Simon and Garfunkel.
But there's room in the marketplace for both genres, as the emergence of singer songwriters like James Blunt and Daniel Powter has proved. Teddy's going to be competing for the same audience in the UK and he's going to need the exposure of a hit single if that's going to happen. Is there one here? I'm not sure. There's no bad tracks. But if there's a great one, it's passed me by.
On the other hand, Seven Days Without Out You or A Million Years could just be the tearjerker to do it. Slush in the extreme, but with a tearful video, who knows? Try Too Hard is perfect Jack Johnson. And if he can do it, why not Teddy?
It's a nice album. Pleasant. My Mum would like it. But it doesn't get my rocks off at any point, or send a shiver down my spine. Which is a shame, because it's a nicely constructed album. Possibilities is the one track that pushes the envelope beyond the safety net and hints at just that - the possibilities. ***1/2
***½
Review by Pete Whalley
Possibilities
© 2006 Columbia. All rights reserved.
Related>>Rising Stars