TAZ TAYLOR BAND Welcome To America Escape Music (2006)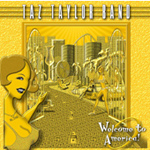 Guitarist Taz Taylor now resides in the US being originally from the UK and after releasing an all instrumental album he returns with ex-MSG/Rainbow/Alcatraz vocalist Grham Bonnet. Not a bad scoop!
This album carries on where Alcatraz left off, with big hard rock tunes like 'Happy Mood' and the look back at the fondly remembered Radio Luxembourg on a track called the same.
Taylor has a very clean soloing style and not disimilar to Gary Moore in the latter's rock years (in fact 'Parisienne Walkways' is covered on here). Bonnet is still in fine form and can tackle the slower numbers like 'Haunted'.
Not too sure about the Ozzy tribute 'Goodbye Mr C' - nice acoustic guitar but Bonnet seems not at his best on this one.
An album for lovers of hard rock and good to see Graham Bonnet rocking out agian.
****
Review by Jason Ritchie
***** Out of this world | **** Pretty damn fine |
*** OK, approach with caution unless you are a fan |
** Instant bargain bin fodder | * Ugly. Just ugly
get ready to rock is a division of hotdigitsnewmedia group