TARA'S SECRET Tomorrow The World
www.taras-secret.com (2006)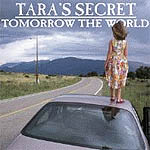 Following on from 2004's rather good demo album 'Spectrum Wheel', UK based melodic rockers Tara's Secret return with a very fine album and one produced at Mad Hat studios (owned by Magnum's Tony Clarkin), along with name producer Mark Stuart (Phil Lynott/Magnum).
This has been a good move on the band's part as the sound and production are very good and the harmonies ring out nice and clear.
The band revel in that classic 80's melodic rock sound and bring to mind long lost favourites such as Tobruk, Virginia Wolf and the guitar style of 80's Shy plus of course well known bands like Magnum, Journey and Danger Danger.
In fact opener 'Drive Me Home' is great fun lyrically as it name checks many 80's rock classics and the keys intro is superb!
The rockier tracks really stand out for me like 'I Believe' and the glorious uptempo AOR of 'Summer Days'. 'Fantasy Girl' is another great song and sticks in your head after just one play, like any good melodic rock tune should do.
Of course this being all things melodic you can't go by without a big ballad and 'The Light' fits the bill nicely and then some.
Along with Shineth, one of the best independently released melodic rock albums this year and a real must for lovers of all things melodic rock.
****
Review by Jason Ritchie