TANGERINE DREAM Essential EMI (2006)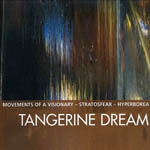 Tangerine Dream are one of the founders and indeed giants of the electronic music scene. They have released numerous albums, many of which are soundtrack albums and have tried varying musical styles.
For me I prefer their late 80's/early 90's output plus the classic 70's era music which is covered on this release.
Only six tracks but then they are not known for four minute tunes! 'Rubycon Pt. 1' and 'Cloudburst Flight' are great songs for the old headphones.
Any good CD collection should at least have some Tangerine Dream in it just for variety and sheer brilliance of the musicianship.
****
Review by Jason Ritchie
***** Out of this world | **** Pretty damn fine |
*** OK, approach with caution unless you are a fan |
** Instant bargain bin fodder | * Ugly. Just ugly