TANGERINE DREAM 'Mota Atma' (TDP TDP001CD)(2003)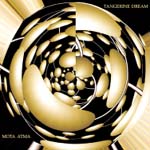 In the history of ambient music, Tangerine Dream loom large. Before the chill-out merchants got to work with their spaced-out grooves, the Dream had cast the mould. Formed in 1967, the band were among the first to embrace synthesiser technology in the early-1970s when they were also feted by prog-heads and DJ John Peel. They achieved some notoriety for performing live behind a bank of television sets and it was argued, somewhat maliciously, it was their way of averting boredom whilst fingering their synths on stage. Latterly the Dream Team consists of father and son Edgar and Jerome Froese.
'Mota Atma' is perhaps understandably a film soundtrack although details in the sparse cover insert are lacking. Certainly this is atmospheric and expansive, even out of its context, although cynics might say it is merely a notch above elevator music. But dim the lights, light a candle and get the cans on to truly appreciate 'Mota Atma's' inner delights.
A Fair Day's Wage
© 2003 Tangerine Dream/TDP. All rights reserved.