TALKING HEADS Reissues EMI (2006)

I can honestly hold my hands up and say I've never heard a Talking Heads album. Never felt the need. Despite critical acclaim and induction into the Rock And Roll Hall Of Fame I've always had an aversion. No good reason, but we all get blind spots for some bands. So I'm either the best person to review these re-releases having no preconceived views, or the worst. Whichever, here goes.

All of Talking Heads' studio albums are being re-released in remastered format, the first five being on Sire/Rhino. And they all come in double disc format - the CD being supplemented with a DVD featuring a DVD-A sound version plus photography and video tracks. Packaging is naturally plush. Whether you value such extras (does anyone really care about DVD-A?) will depend how sad you are. But you'll know if it's something you consider worth shelling out on.

Which brings us to the albums - the final episode of the Talking Heads catalogue. And if you needed reminding David Byrne and co. served up a new wave based polyrhythmic stew of punk and funk with African rhythms, avant-garde minimalism and pure pop.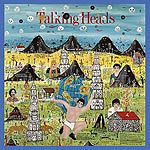 Little Creatures was originally released in 1985 and was something of a return to the stripped down sound of some of their earlier albums. It's one of their more accessible albums and opens with the wonderful And She Was. Also featured is that other 'classic' single Road to Nowhere. Give Me Back My Name is melancholic and Creatures of Love has a country air. Elsewhere, well, it's what you would expect of a Talking heads album - quality popular music - with quirky time changes and a myriad of cultural influences. Bonus early versions And She Was and Road to Nowhere are included as is an extended version of Television Man. ****
Byrne went on to direct the film True Stories, in which actors sing his songs, and the True Stories album sees Talking Heads own versions. The songs are heavily rhythmic, and hark back to the world music-inflected sound the band of the band's earlier output but with more of a pop/rock edge. There's less world music influences on show - a little samba here, and a little country there, but that's about it.
Highlights are the catchy, funky Puzzlin' Evidence and the hit Wild, Wild Life. Bonus material is extended / alternative versions of the latter, Papa Legba and Radio Head. ***
Naked was the final chapter of the Talking Heads discography, and marks a return to the complex arrangements of their earlier work. Recorded in Paris and produced by Steve Lillywhite it features Johnny Marr on guitar. It's a return to form and fitting finale. Opening with the slinky groove of Blind, the album moves into south American flavoured calypso of Mr.Jones, the Jamaican influenced Totally Nuded, and tribal beat of Ruby Dear.
The mid section is more straight-ahead - if David Byrne could ever be accused of such. Mommy Daddy You And I could have been a classic but for Byrne's insistence in taking the song in a hoedown directions. Bill sticks on the straight and narrow and is all the better for it. But overall it's the usual potpourri of influences that could never mistake it for anyone other than Talking Heads. A solitary bonus track is included - Sax And Violins - which is predominately Eastern influenced. ***
Review by Pete Whalley